I'm very interested in family history. My wife's maiden name is Ann Marie Bernreuther, and here is the history of the family from Austria & Bavaria through their last 150 years in America. Some photos are first.
My future bride, Ann Marie Bernreuther, on her second birthday.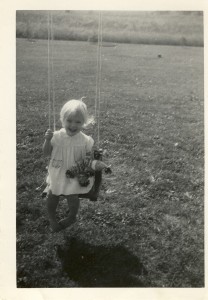 Ann Marie Bernreuther, almost 13, at home in Portville, NY.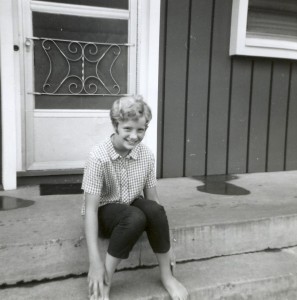 Bernreuther men in 1984 at family reunion in Almond NY. Scott Bernreuther with son David on his shoulders, Mark Bernreuther holding our son John Lewis, Glenn Bernreuther and Alvin Bernreuther.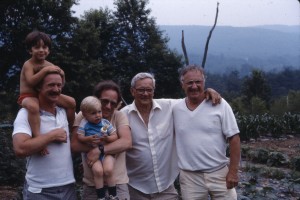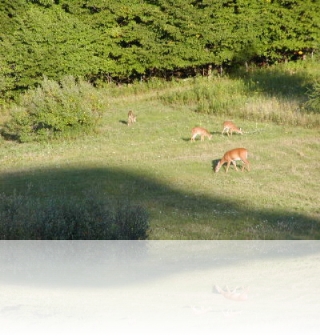 Bernreuther is an uncommon name in both Germany and the US. I've been able to locate less than 40 residential phone listings in the entire US for the last name Bernreuther. There are under 30 residential listings with the name Bernreuter, which I believe may be an adaptation of the family name by another immigrant.
In the case of my wife's family, the earliest documented ancestor is Hans Pernreitter – born before 1600, presumably in Upper Austria. He had two sons, Bernhardt Bernradter and Wolfgangus Bernratter. Her family is descended from Bernhardt, and she have relatives living in the area of Thalmaessing-Eysoelden, Bavaria, Germany. Bernhardt's son Hanss emigrated from Austria to Bavaria following the 30-years war.
Descendants of Bernhardt Bernradter – who was born at the Mayr estate, Fronberg at Natternbach, upper Austria, before 1600
1 Bernhardt Bernradter – 1647
… +Magdelena Bef 1600 – 1646
…….. 2 Hannss Bernreuther 1614 – 1684Mr. Hanss is the ancestor of all following Bernreuthers and Bernreiters living in Franconia of our family.With all we know about him, he must have been a man of extra ordinary character and personality.Because of the historical events the documentary remark "Protocal Puerbach 111th volume treatise of Janner 1648" and his marriage date, we assume that Hanss, at the end of the 30-year War, 1648, left his native land because of religious reasons. Absolved all human relationships to his still living brothers and sisters, his friends and acquaintances, and broke away form his extra-ordinary (extraordinarily) beautiful home with its wide green meadows and dark forests and went at the age of 34 into unsecure conditions of the so called Margraveland. He did this to stay faithful to the religion of his parents, not to stay and be forced to become catholic. This was requested of all people in that area from the regent in Austria after the conditions of the Westphalia peace.
………….. +Margaretha Waldmueller – 1687
………………. 3 Margaretha Bernreuther 1650 –
………………. 3 Margaretha Bernreuther 1652 –
……………………. +Hans Phillipp Satzinger
………………. 3 Anna Margaretha Bernreuther 1654 – 1739
……………………. +Hans Georg Satzinger
………………. 3 Maria Bernreuther 1656 –
………………. 3 Johann Georg Bernreuther 1658 – 1714
……………………. +Elisabeth Hafner
………………. 3 Veit Ulrich Bernreuther 1660 – 1732
……………………. +Barbara Fuchs 1671 – 1693
………………. *2nd Wife of Veit Ulrich Bernreuther:
……………………. +Maria Emerling 1673 – 1737/38
………………………… 4 Veit Ulrich Bernreuther 1698 – 1781
……………………………… +Eva Maria Rabus 1703 – 1772
………………………………….. 5 Johann Georg Bernreuther 1734 –
……………………………………….. +Susanna Pfahler 1739 – 1783
………………………………….. *2nd Wife of Johann Georg Bernreuther:
……………………………………….. +Marg. Barbara Renner
……………………………………………. 6 Johann Georg Bernreuther 1791 –
…………………………………………………. +Anna Maria Renner 1791 – 1840
…………………………………………………….. 7 Johann Bernreuther 1818 – 1893 (*** THIS IS OUR IMMIGRANT ANCESTOR****)
………………………………………………………….. +Caroline Herpolzheimer – 1882
………………………………………………………………. 8 John Frederick Bernreuther 1855 – 1938
……………………………………………………………………. +Elizabeth Schust – 1925
………………………………………………………………………… 9 Edna Bernreuther 1888 – 1975
……………………………………………………………………………… +Louis Vogel
………………………………………………………………………………….. 10 Harold William Vogel 1915 –
……………………………………………………………………………………….. +Virginia Wellfare 1918 –
………………………………………………………………………………….. 10 Kenneth Frederick Vogel 1917 –
……………………………………………………………………………………….. +Helen Brog 1910 –
………………………………………………………………. 8 Paul Hermann Bernreuther 1858 – 1921
……………………………………………………………………. +Louise Friederike Brusehaber 1861 – 1962
………………………………………………………………………… 9 Walter John Bernreuther 1891 – 1951
……………………………………………………………………………… +Matilda Louise Julia Landahl 1894 – 1978
………………………………………………………………………………….. 10 Alvin Frederick Bernreuther
………………………………………………………………………………….. 10 Jane C Bernreuther
……………………………………………………………………………………….. +Glen Robert Scott
………………………………………………………………………………….. 10 Glenn Walter Bernreuther 1924 – 1990 (*** THIS IS MY WIFE'S FATHER***)
……………………………………………………………………………………….. +Marjorie Elaine Platt
………………………………………………………………………… 9 Alvin W. Bernreuther 1892 – 1898
………………………………………………………………………… 9 Lelia Marie Bernreuther 1897 – 1946
………………………………………………………………. 8 Amelia Bernreuther 1865 – 1933
………………………………………………………………. 8 Wilhelm Gotlieb Bernreuther 1869 – 1947
……………………………………………………………………. +Emma Holderle
…………………………………………………….. 7 Maria Margareta Bernreuther 1819 – 1919
………………………………………………………….. +Georg Henry Fries
…………………………………………………….. 7 Johann Georg Bernreuther 1820 – 1847
…………………………………………………….. 7 Johann Michael Bernreuther 1824 – 1895
………………………………………………………….. +Suzanne Margareta Pfann – 1887
…………………………………………………….. 7 Anna Maria Bernreuther 1825 – 1921
…………………………………………………….. 7 Johann Karl Bernreuther 1828 – 1906
………………………………………………………….. +Anna Barbara Emmerling 1831 – 1897
…………………………………………………….. 7 Veit Ulrich Bernreuther 1832 – 1913
………………………………………………………….. +Anna Maria Schmidt
……………………………………………. *2nd Wife of Johann Georg Bernreuther:
…………………………………………………. +Anna Barbara Hemmeter 1807 – 1892
………………………………….. 5 Veit Ulrich Bernreuther 1741 – 1775
……………………………………….. +Barbara Buttner 1741/42 – 1790
……………………………………………. 6 Maria Kunigunde Bernreuther 1765 –
……………………………………………. 6 Johann Heinrich Bernreuther 1767 –
……………………………………………. 6 Johann Adam Bernreuther 1768 –
……………………………………………. 6 Anna Maria Bernreuther 1772 –
……………………………………………. 6 Veit Ulrich Bernreuther 1774 –
…………………………………………………. +Anna Barbara Bernreuther 1772 – 1849
…………………………………………………….. 7 Maria Magdalena Bernreuther 1792 –
…………………………………………………….. 7 Anna Barbara Bernreuther 1794 –
…………………………………………………….. 7 Eva Maria Bernreuther 1797 –
…………………………………………………….. 7 Veit Ulrich Bernreuther 1798 –
…………………………………………………….. 7 Johann Georg Bernreuther 1800 – 1834
………………………………………………………….. +Margaretha Barbera Dorner 1802 –
………………………………………………………………. 8 Johann Michael Bernreuther 1824 – 1853
………………………………………………………………. 8 Veit Ulrich Bernreuther 1826 – 1880
……………………………………………………………………. +Anna Barbara Dorner 1838 – 1909
………………………………………………………………. 8 Friedrich Bernreuther 1828 – 1829
………………………………………………………………. 8 Eva Maria Bernreuther 1830 –
………………………………………………………………. 8 Margaretha Barbara Bernreuther 1831 –
………………………………………………………………. 8 Georg Bernreuther 1833 – 1914
……………………………………………………………………. +Maria Kaussler
………………………………….. 5 Heinrich Bernreuther 1744/45 –
………………………………….. 5 Anna Maria Bernreuther 1744/45 –
………………………………….. 5 Johann Michael Bernreuther 1746 – 1746
………………………… 4 Anna Maria Bernreuther 1700 – 1770
………………………… 4 Hanns Michael Bernreuther 1705 – 1706
………………………… 4 Johann Georg Bernreuther 1708 – 1713
………………………… 4 Anna Ursula Bernreuther 1711 –
………………………… 4 Eva Bernreuther 1714 – 1715/16
………………………… 4 Catharina Bernreuther 1714 – 1717
………………. 3 Hanss Andreas Bernreuther 1661/62 – 1736/37
……………………. +Magdalena Uhl 1664 – 1692
………………. *2nd Wife of Hanss Andreas Bernreuther:
……………………. +Sophie Seibold 1674 –
………………. 3 Georg Friedrich Bernreuther 1664/65 – 1737
……………………. +Anna Maria Eissen 1666 – 1697
………………. *2nd Wife of Georg Friedrich Bernreuther:
……………………. +Dorothy Bachofen 1678/79 – 1707/08
………………. 3 Anna Ursula Bernreuther 1666/67 – 1710
……………………. +Daniel Muller 1664 – 1728
………………. 3 Maria Magdalena Bernreuther 1669 – 1669
………………. 3 Johannes Bernreuther 1670 – 1701/02
……………………. +Elisabeth Zahlbaum
…….. 2 Georg Bernradter – 1700
………….. +Magdalena Schwenter
…….. 2 Maria Bernradter
………….. +Thomas Eder
…….. 2 Barbara Bernradter – 1666
………….. +Georg Auinger