Chapter 13 – Samuel Howell Lewis
SAMUEL HOWELL LEWIS  (b. March 12, 1796 in Mecklenberg County, VA, d. Nov 28, 1867 Johnson Co, IL ) married Henrietta Mabrey July 4, 1818 in Warren Co, NC , later married Jane Darnell, mother of Benjamin Darnell, Robert and William Baugh.
Samuel Howell Lewis was born March 12, 1796 in Mecklenburg County, Virginia.  He was the second child and the oldest son of Robert Lewis (Robert of Mecklenburg) and Anna Bugg Lewis.
Samuel's father died when Samuel was 10.  At the age of 16 Samuel Howell left his home and his large portion of the family inheritance as oldest son, and never returned.  He set out for a new life moving southward and then westward. (same year as War of 1812)
Samuel was married at least twice.  On July 4, 1818 he married Henrietta Mabrey in Warren County, NC.  Warren County is just across the state line from Mecklenberg County, Virginia.  Oral tradition is that Samuel and Henrietta had four sons: James, Samuel, Hardin and Ansell, and that all four sons moved to Illinois before their father moved there.  It is believed that at least one went to Arkansas and one to Missouri. 
Recently, contact was made with a descendant of a Samuel Charles W. Lewis, born August 18, 1824 in Virginia to a Samuel H. Lewis and his wife Henrietta. He moved to the St Louis area. The names. location and dates align with our Samuel H and Henrietta Lewis, so it is likely that this is the second son of Samuel Howell Lewis. Unfortunately, his direct male line died out in 1905, so DNA testing is not an option to test the relationship.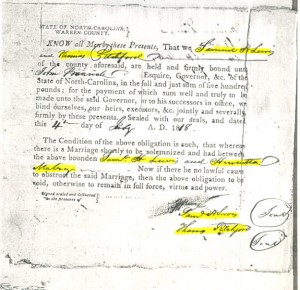 After Henrietta died, Samuel married Jane Darnell, mother of Ben, Robert and Will.  Family tradition has a daughter Ann Lewis born in 1830 and would have died before 1845..  Jane Darnell Lewis died, probably in Kentucky.  Following her death, Samuel moved to Illinois.  Samuel is listed in the 1840 census in Calloway County, KY and Jane died in 1844 or 1845.
Samuel moved to Pope County Illinois about 1845, bringing with him his three youngest sons, Benjamin, Robert and William.
Samuel said he grew up on the Virginia plantation of his father Robert.  Since his father had slaves, his duties were mostly of an unimportant nature.  He remembered well how the slave cabins sprang up on the land.  He did not care for the idea of slavery, and decided to run away from home at about age 16 and migrate Westward.  He never returned home.  He first entered South Carolina, and from there into Tennessee where he lived for several years.  He later moved through Kentucky before coming to Illinois.
Samuel Howell Lewis – Family Notes
Sources of information on Samuel Howell Lewis include:
Marriage Records, Warren County, NC
Census 1840 Calloway County, KY
Pioneer Lewis Families, M.C. Cook, c. 1984, p.225-6
Listing of Joyner Cemetery
Tombstone Photos
Lewis Genealogy, Leland Lester Lewis, 1982 p. 20-21