Rev Robert Lewis, son of Samuel Howell Lewis and Jane Darnell Lewis, was born in Clay (Jackson) County, TN May 12, 1832 and died in Stonefort IL December 6, 1919.  He is buried in the Joyner Cemetery outside Stonefort, where many Lewis family members including his father and generations of descendants are buried. (Note: There is some controversy about his mother being Jane Darnell. Family tradition and his obituary state it, but to date no source documents have been found.)
His mother died when he was about twelve years old.  His father Samuel Howell Lewis, a schoolteacher, then broke up housekeeping, bringing his three sons to Southern Illinois, placed them in good homes near Stonefort.  He kept in touch with his children and gave them a common school education.
Robert came before the people in early manhood as a singing school teacher, and a little later taught common school in the rural districts, teaching winter terms over a period of thirty-four years.
He showed a dedicated preference for rural life, being a practical farmer and stock breeder.  He was converted to the cause of Christ in 1852 and entered actively into the Christian duties.  In that same year he was married to Miss Sarah Joyner (b. December 6, 1833, d. February 16, 1864). Sarah was the daughter of Joshua and Mary McDonald Joyner. They had a daughter Henrietta and son (Joshua Samuel) Howell Lewis who lived to adulthood. Another daughter Florence was born in 1860 and died in 1871. A daughter Mary and son William H died in infancy, and their markers at Joyner Cemetery do not indicate dates.
He was ordained a minister of the gospel by a General Baptist Presbytery at the Little Saline Church, in Saline County, IL, October 23, 1858, remaining with this denomination for thirteen years, serving various churches as pastor and assisting in evangelistic meetings, severing his relations with the General Baptists when a Seventh Day Baptist church was organized at Stonefort.  He took active interest in the politics of our country, both local and national, and filled various county and township offices.  It was his habit to meet the political issues without compromise.  In the presidential campaign in 1856 it was very unpopular in southern Illinois to express anti-slavery sentiment, the weight of public opinion being with the South.  At that time, although endangering his life, he in a public debate, condemned human slavery and was one of only seven men of Johnson County who cast votes for the Republican nominee, John C. Freemont.  Again in 1860 he was with the minority of only seven in his precinct who cast votes for Abraham Lincoln.
At the opening of the Civil War he volunteered for service in the Federal Army, enlisting with the 31st Regiment, Illinois Infantry, Company B; was appointed first sergeant August 10, 1861; commissioned second lieutenant February 26, 1862.  He participated in the battles of Belmont and Donelson, receiving promotion to first lieutenant September 3, 1862 for meritorious service at Fort Donelson.
Owing to factional strife in his company and failing health of his wife Sarah Joyner, he resigned and left the service of the army March 27, 1863.  His wife died February 17, 1864.  He was married to Miss Minerva Oshel, April 7, 1866, living with her until her death, February 11, 1908. Minerva was the daughter of Dorothy Farthing Oshel and Oshel. It was through her that the Farthing and Lewis families were connected. Their children were Jennie Lewis Kelley, John Henry Lewis, (Seth) Albert Lewis, Oliver Lewis and his twin Oscar who died in infancy, Cora June Lewis Green, (Robert) Ira Lewis, and Ellis Raymond Lewis.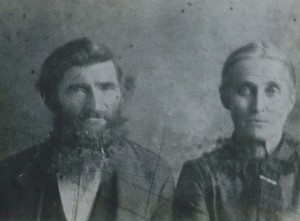 Robert and Minerva Oshel Lewis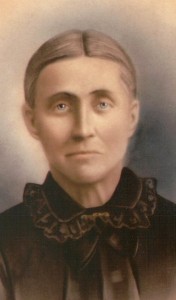 He was married a third time to Eugena Martin on January 31, 1909.  She was known as "Aunt Deany"
Here is a photo of Robert's 80th birthday celebration.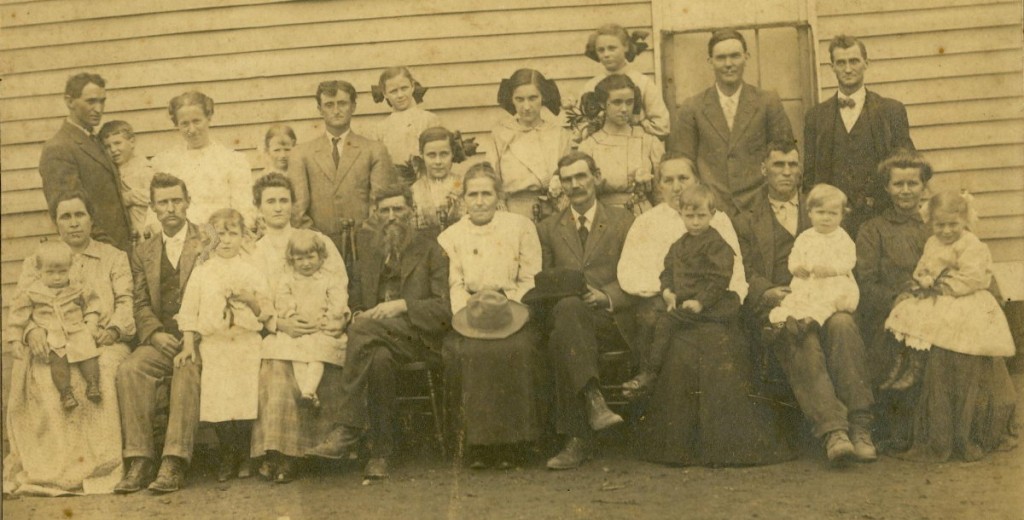 The Stone Fort Seventh Day Baptist Church was organized March 5, 1871 by Elder M. B. Kelly, a pioneer Seventh Day Baptist of Southern Illinois, assisted by Elder James Bailey.  Elder Robert Lewis entered it at its formation and was at that time formally recognized by the church as an Ordained Seventh Day Baptist minister.  He lived on the farm less than two miles from the church, retaining his home in the church community from its organization until his death, making him a resident minister of the church for more than forty-seven years.  He often supplied the pulpit when the church had another pastor, and was the regularly elected pastor many terms of one year.  He maintained other preaching points near-by and assisted in the organization and pulpit supply of the churches of Bethel and Aenon.  His mental and physical forces were wonderfully preserved, permitting him to continue preaching until eighty-four years of age and to attend the meetings of the church and assist in the services for a year later.
Sources of information on Robert Lewis include:
1850 Census, Pope County, IL
1870 Census, Saline County, IL
1880 Census, Saline County, IL
Obituary, Seventh Day Baptist publication "The Sabbath Recorder" p. 603
Robert's Illinois Death Certificate
Tombstone Photo in Joyner Cemetery, Stonefort, IL