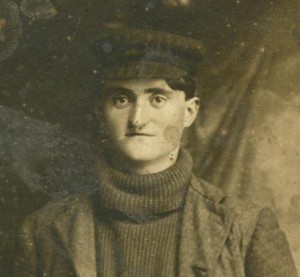 Robert Ira Lewis was born on the family farm on Sept 24, 1879.  He attended school in Stonefort, IL and the Milton College Academy, Milton Wisconsin.  He entered the Army, and was honorably discharged Jan 5, 1909 from Fort Leavenworth, Kansas.  He returned to his father's farm where he worked, and married Joanna (Dollie) Martin on June 3, 1912  Dollie's mother was Eugenia Gibbs (Deaney) Martin, who later married Rev Robert Lewis, father of Robert Ira Lewis.
Robert Ira and Dollie began agricultural farming, raising hay and grains for livestock feeding.  They had Jersey cattle, hogs and a large flock of white leghorn chickens.  They also did truck farming and gardening.
They later moved to Gentry, Arkansas and then to Riverside, California.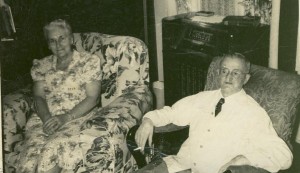 Ira died March 15, 1953 and Dollie died May 24, 1980.  They are buried in the Evergreen cemetery in Riverside.
Ira and Dollie had seven sons:
Edwin Paul  b Feb 27, 1913 died date unk
James Ford b Oct 14, 1914 died date unk
Robert Samuel b Sept 16, 1916  died date unk
Norman b Mar 14, 1918 died date unk
Phillip b Dec 25, 1919 died date unk
Alfred b Aug 10, 1921 – d date unknown
son b Jan 11, 1923  – is still living,