Chapter 7 – John Lewis of Monmouthshire (Emigrant John)
John Lewis, son of Lewis ap Richard (Prichard, Prickett, Ryckett) and Catherine Morgan, was born near Abergavenny. He was baptized at St Telio's Church Feb 22, 1591/2 in Llantilio Pertholy.
John married Johanne Lewis on Feb 3, 1610. Johanne's great-grandfather, Lewis ap John (Wallis) was the vicar of both Abergavenny and Llantilio Pertholy. There is a Lewis Chapel in the church of Abergavenny in his honor. Other ancestors of Johanne's were Lords of the manor Triley on the slope of the Deri Mountain. The Triley Chapel in the church of St Teilio is dedicated to them. Their coat of arms are on the east window of the church of Llanddewi Rhydderch. (GM p 13)
Johanne's father Richard was Curate and Vicar of St Teilo's Church, where John was baptized and their three children were also baptized. It is most likely that John and Johanne met and grew up together in St Teilio's church since it was the home church of both of their families.
John and Johane Lewis had three children baptized at Church of St Teilio.
1) Gwenllian, Feb 5, 1611 (same name as John's maternal grandmother)
2) Lettus (Lettyce) March 1, 1615
3) Watkin, January 1, 1621 (same name as John's maternal grandfather)
Johanne is believed to have died sometime after Watkin was born, although there is no record in the church of her burial.
John had at least two sons, John and Edward, after Johanne's death. One author says his second wife was Catherine Phillip, but I am not aware of source documents to support that assertion.
John Lewis's son John was baptized at the Church of St Teilo on December 15, 1633, and the church record does not name his mother. It appears the Patronymic naming system was abandoned by 1633 because emigrant John is listed in the church register as John Lewis and not John Lewis Prickett. The baptism of emigrant John's youngest son Edward is not in the church register, and records are incomplete starting in 1641???
John Lewis held land and homes in the town of Abergavenny. John was sometimes referred to as a Merchant, sometimes a Mercer; sometimes a Burgess. He was also referred to as a Gentleman (used to denote "arms bearing"). The History of Monmouthshire, Vol I, Pt II, p. 153, presents the "Charter of King Charles I to the Town of Abergavenny," November 9, 1638, and named John Lewis as Senior Burgess. One obligation of the office of Senior Burgess was to militarily defend the county in times of distress.
A man named John Lewis, along with a Major William Lewis and an Ensign Lewis led the defense of Chepstow Castle in English Civil War when Cromwell and the Puritans took on King Charles and the Church of England. The castle is less than 25 miles from Abergavenny, and on the border with England. Cromwell's forces of seized Chepstow Castle and overtook it on May 25, 1648. John Lewis, Major William Lewis and Ensign Lewis were taken prisoner and later exiled to Barbados for two years. There was much healthy discussion and debate recently about who the John Lewis of Chepstow Castle was, and recent evidence confirms it was NOT our emigrant ancestor.
Land sale records in Wales dated May 6, 1652, show John was selling property just prior to coming to Virginia. It was customary to list a wife in the sale if a man was married, and John is listed alone, so it appears he was widowed at that time.
John sailed to Virginia in 1653 with his nephew Major William Lewis, sons John and Edward, and a Lida Lewis. They most likely sailed from Bristol, England, but that cannot be confirmed because embarkation records only started being kept at Bristol in 1654, the year after they left for Virginia.
Since John was not the John Lewis exiled to Barbados, then some other impetus led him to sell his land and journey to Virginia at an advanced age.
July 1, 1653 his Grant of Land shows he is a resident of Virginia. John was granted 250 acres on Poropotank (Lewis) Creek.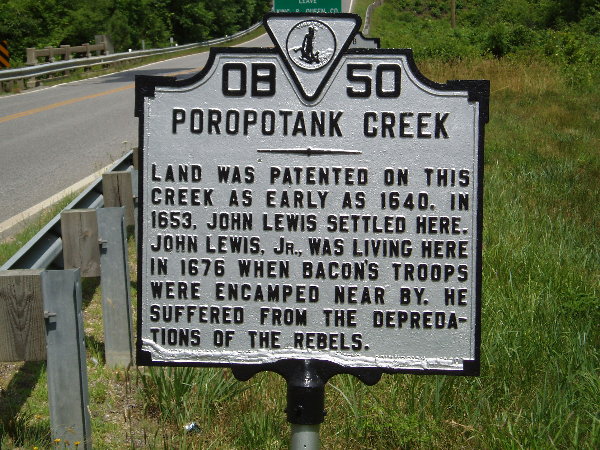 He died three years later and was buried at the property on Poropotank Creek. His son John's wife, Isabella Miller Lewis, is buried there also. The graves were "discovered" by Dr Malcom Harris in 1948. The coat of arms on the stones was the key to unlocking our family history.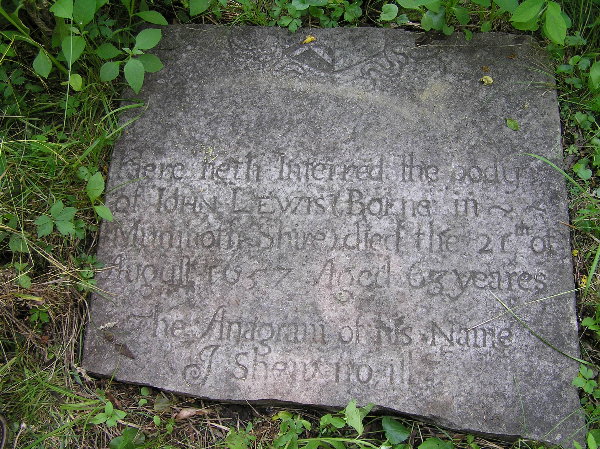 John's tombstone reads "Here lieth interred the body of John Lewis (borne in Munmoth shire) died the 21st of August 1657 aged 63 years. The anagram of his name I shew no ill".
The Tidewater area of Virginia has sandy soil, and no local stone suitable for tombstones. They had to be ordered from England, a process which took about two years and was very expensive. Gravestones were uncommon in tidewater Virginia in that era, only the wealthiest had them. The coat and tombstone indicate the survivors of Emigrant John Lewis wanted to make a permanent record of his Welsh family bloodline.
One interesting note is that, as of June 2007, Emigrant John's tombstone is the oldest known tombstone in King and Queen County, Virginia. We know Major William Lewis was very wealthy based on the land he purchased, and it is possible that he is the one who ordered the tombstone for emigrant John. Emigrant John's son William was still a minor
First (top left) Quarter – LEWIS ARMS (coat of Rhys Goch)
Second (top right) Quarter – HOWELL Family, Prince of Caerlleon "Gules, three towers triple-towered Argent" The son of Rhys Goch, Gemilling (Genillin, Kynyllin, Cynhyllyn) married Jenet, daughter of Sir Howel of Caerlleon. A Grant of Arms was given to him in the eleventh century to use this arms.
Third Quartering – "Argent three Chevronels Gules". Coat of the de Turberville family of Crickhowell in Brecon.
Fourth Quartering – "Azure three plates". Fourth position is for the wife, so this was the shield of Johanna Lewis of the family Lewis of Llanddewi Rhydderch. They were acquired by intermarriage with an heiress of the de Trevely family of that parish. These Arms were borne by Sir Walter de Trevely who came into Wales with the Norman Conqueror, Bernard de Newmarsh.
The top quarter, the Lewis Quarter, was the "Rhys Goch" line of Brecon, Wales
The three other quarterings indicate three heiresses had married into the Rhys Goch Line – heiresses of such prominence that their Coat-of-Arms warranted being included on the shield of that family.
Lewis Motto – "Omne Solum Forti Patria Est" – "Every Land is Home to a Brave Man". This motto does not appear rooted in family records in Wales, and may have been originated in Virginia.
Emigrant John Lewis – Family notes:
MAJOR WILLIAM LEWIS (died between 1658 and 1667)
Major William Lewis was the son of Johanna Lewis' brother William, so he was the nephew of Emigrant John Lewis. He was a wealthy man when he came to Virginia, and purchased over 10,000 acres of land within five years of his arrival. He purchased a 2,600 acre farm Chimahocans, which he referred to as "Port Holy" from Colonel John West in 1658. Upon Major William's death, the estate passed to Major John Lewis, the elder of the two sons of Emigrant John Lewis that came with him to Virginia. Major William Lewis was from the Parish of Llantilio Pertholey in Wales, hence his use of the name Port Holy for his residence in Virginia.
EDWARD LEWIS
Possibly born about 1641 in Wales and attained majority in 1662. Church of St. Teilio records are incomplete after 1640, and Edward's baptism was not found in the church register. There is no conclusive evidence of his marriage or any children he may have had, but there are records of an Edward Lewis who might or might not be this Edward.
LIDA (LYDIA) LEWIS
Lida was possibly a wife or daughter of John the Emigrant or Major William Lewis. No definite identification has been made based on surviving records. She was not listed in the land sales made by John Lewis before departing Wales, or on the land purchase made by Major William Lewis. No record of her death has been found.