Chapter 8 – Major John Lewis
John was the older of two sons who came to Virginia in 1653 on the ship with their father John the Emigrant as well as with Major William and Lida Lewis.   He was born in Abergavenny, and baptized Dec 15, 1633 (Register of St Teilo church, Moses p.25)
He obtained his first land grant in 1655, after turning 21.  When Major William Lewis died, he willed the Chemokins estate to John.  John was a Vestryman of St. Peter's Parish, New Kent County.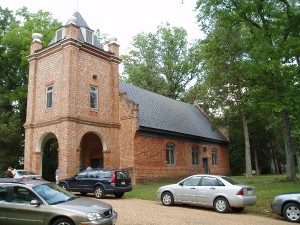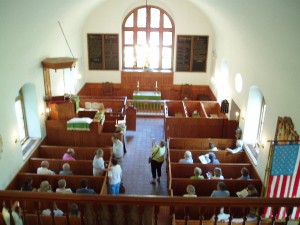 He was also a Major in the New Kent County Militia (hence his identifier of Major John).  New Kent is the county and parish where Chemokins is located.
In one court record, Major John Lewis is mentioned as a surveyor. (Sorely, p27)
He married Isabella Miller, daughter of James Miller the Elder of York County, and they had two sons John and Edward.
Major John Lewis – Family notes:
Major John's wife Isabella had a brother named James (the Younger), who died without heirs.  In his will, he left his entire estate to his sister, with reversion to her sons John and Edward.
Isabella's gravestone is in the small cemetery where Emigrant John is also buried.  This would indicate she died before Major John, and he had her buried in his family cemetery and ordered a stone for her.  Major John's tombstone has never been discovered, and the exact date of his death is unknown.  No probate of his will, if he had one, has been found.
Two people have contacted me saying Major John and Isabella had several other children (as many as 15 total in one case).  The records of St Peter's Parish do not corroborate any more children than the two sons John and Edward.  To date I am unaware of any documentation to support the existence of other children, and there has been no DNA testing I am aware of of any direct male descendents of any of these other male children that would prove or disprove they were descended from the same male line as Emigrant John.  I have contacted one direct male descendent in hopes he will do the DNA testing.