Chapter 9 – Councilor John Lewis b. Nov 30, 1669 d. 1725 Warner Hall m. Elizabeth Warner
Major John and Isabella's son John (Nov 30, 1669 – Nov 14, 1725) married Elizabeth Warner . John and Elizabeth lived at Chemokins, the family farm he inherited from his father. John was a "Vestryman" at St Peter's Parish, meaning he had both lay religious duties as well as governmental duties carried out through the church. John and Elizabeth had 14 children before Elizabeth died.
In 1701/02, when Elizabeth's brothers died without children, Elizabeth inherited her family estate, Warner Hall, as she was the oldest daughter. John and Elizabeth packed up and moved from Chemokins in New Kent County to Warner Hall in Gloucester County.
Their third son Robert (our ancestor) was their first child born at Warner Hall. The original main home burned in the mid-1800s, but some structures there are original. Warner Hall remained in the Lewis family through 1830. Warner Hall and 600 acres remain intact, the land was never sub-divided. Today Warner Hall is a Bed and Breakfast. (paste photos here)
In addition to inheriting Warner Hall, John filled his late father-in-law's position as "Councilor", one of 12 men in Colonial Virginia who served in the Governor's Council and administered the colony. He is referred to as Councilor John to differentiate him from the many Johns who came before and after him.
Both Councilor John and Elizabeth are buried at the historic cemetery at Warner Hall. Their Lewis descendants lived here longer than any family, until the last of the family sold it in 1830.
Councilor John Lewis – Family Notes
Councilor John Lewis owned significant land, and married into one of the most prominent Virginia families when he married Elizabeth Warner. We'll examine some of her family background, as her ancestors are also our ancestors.
Nicholas Martiau was born in France in 1591, was educated as a military engineer in England, and was naturalized as an Englishman by royal decree. In May 11, 1620 he left England on the Francis Bonaventure and arrived in Virginia that June. He was among the individuals listed in the first census of Virginia, which was taken in 1624. As his descendant, you are eligible for membership in the First Families of Virginia, a society of descendants of those people whose arrival predated that initial census.
As a military engineer, Nicholas Martiau was placed in charge of military fortifications and designed Fort Yorktown. His descendants are entitled to join two organizations. "First Families of Virginia" is one, and we are eligible because our ancestor arrived before the first census was taken. The second society is the "Grand Dames of Virginia", a group of women whose ancestry dates to early colonial Virginia. Nicholas is the earliest emigrant ancestor of George Washington, Robert E Lee and of course us.
Nicholas Martiau married the widow Jane Berkely in 1625, and their first child was a daughter Elizabeth. He also had daughters Mary (married John Scarsbrook) and Sarah (married Captain William Fuller). Nicholas received a large track of land that is present-day Yorktown, Virginia, where he died in 1657.
Colonel George Reade was born in England on October 25, 1608 into a very prominent and well-documented English family. He immigrated to Virginia in 1637, was active in colonial politics, and became the secretary of the Virginia Colony. In 1641 he married Elizabeth Martiau, when she would have been a young girl of around 15. He was a public servant, becoming Secretary of the Virginia Colony, and was probably the acting Governor when Governor Harvey was recalled to England in 1638 and 1639. Following his retirement, he was a representative in the assembly and then was a member of the Governor's Council for 18 years preceding his death.
Col George Reade and Elizabeth Martiau Reade had at least eight children, the oldest being their daughter Mildred, who married Col Augustine Warner, Junior.
Colonel Augustine Warner, Senior, was born November 28, 1610 and immigrated to Virginia as early as 1628 but before 1642. His coat of arms is of the Welsh family Warner. He is believed to have acquired the land where he built Warner Hall in 1635. He married a woman named Mary whose maiden name is not known. They had a son Augustine Warner Junior and a daughter Sarah.
Colonel Augustine Warner Senior's daughter Sarah married Lawrence Townley and is the great-great-great grandmother of General Robert E. Lee.
Augustine Warner, Junior, also known as Speaker Warner, inherited Warner Hall when his father died. He was Speaker of the Assembly / Burgess, and later was elevated to one of 12 members of the Governor's Council. He married Mildred Reade, daughter of Col George Reade and granddaughter of Nicholas Martiau. They had three sons and three daughters. Their three sons died without children, so Warner Hall transferred to their oldest daughter, Elizabeth, wife of Councilor John Lewis.
Elizabeth's younger sister Mildred Warner married Lawrence Washington. Their son Augustine Washington was the father of George Washington
Elizabeth's youngest sister Mary Warner married John Smith and is the 7x great-grandmother of Elizabeth, Queen of England and 8x great-grandmother of Charles, Prince of Wales.
Historic Cemetery there – Councilor John, Elizabeth, her parents buried there.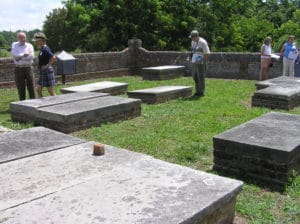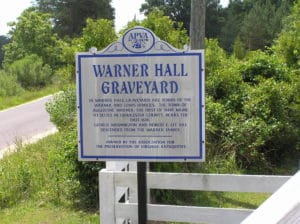 Children include: John, Charles (of the Byrd), Robert (Robert of Belvoir)
Councilor John and Elizabeth's oldest son John II inherited Warner Hall. John II's oldest son, Warner Lewis, inherited Warner Hall. John II's third son, Fielding Lewis, was a great patriot in the revolution supplying many of the cannons to the General Washington's army, married George Washington's sister Betty and had his residence at Kenmore. The Kenmore estate is well preserved today, and is open to the public to visit.
There are many Vestry meeting notes in New Kent Parish mentioning Councilor John, and some of the meetings were held at his home Chemokens. Another prominent vestyman was Captain Nicholas Meriwether, whose daughter Jane married Councilor John's third son Robert.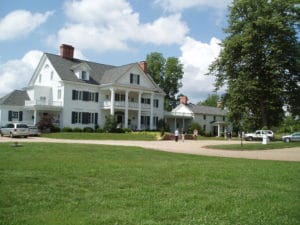 Sorely Notes:
Speaker Warner married Mildred Reade. Their daughter Elizabeth was born 1672 at Chesake in Glocester County, before Speaker Warner moved to Warner Hall in 1674.
Speaker Warner died June 19, 1681 at age 39. A portrait of Speaker Warner hung in the library of William and Mary college in 1935.
Mildred Reade Warner died 1694. One son pre-deceased her. Two other sons died after her and did not have children, so Warner Hall reverted to eldest daughter Elizabeth upon death of last son.