Our Celtic ancestors did not have a written language, and used a different naming system where a child's last name was their father's first name.  This went on for thousands of years until the British outlawed the practice in the 1600s and directed the last name be passed from parent to child.  Without a last name passed from generation to generation, a coat of arms was used by powerful / high status families to show their heritage and lineage.  The crest was passed from father to son.  There are many Lewis families in Wales and Britain with different crests, and ours is a most unusual one passed down from at least Rhys Goch ca. 1100 AD to us.  The Warner Hall Lewis family is our family, and Merriwether Lewis of Lewis and Clark fame is one of our most famous "cousins". Our line is the only known documented male line of descent from Rhys Goch, and is the focus of a DNA project to identify as many branches as possible.
For anyone interested in pottery with our Lewis family crest, it can be shipped directly from the potters to you.  To order directly, call Monica or Ray Sommerville at (607) 868-4409 and they can take your order on the phone via charge / debit card.   I own the copyright to this specific drawing of our crest, and have told the Sommervilles that they are welcome to apply it to pottery that anyone wants to order directly from them.
Pottery can be made to order with either dark or light clay, and green or brown glazing.  My favorite is light clay with green glaze.  The pictures are labeled so you can see what the colors look like.
Because each piece is handmade on a potters wheel, no two will be exactly alike.  The dimensions are approximate.
Here is what is available. Confirm pricing with Monica or Ray.
Coffee Mug with light clay and green glaze, $20.00.   Approximately 5″ tall, 3.5″ wide at lip, and holds about 2 cups.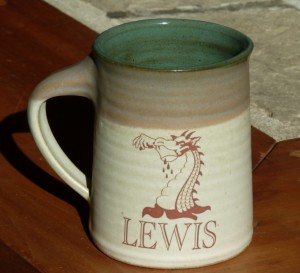 Mighty Mug (tall coffee mug) with dark clay and brown glaze, $26.
Approximately 6″ tall by 4″ wide at lip, holds about 2.25 cups.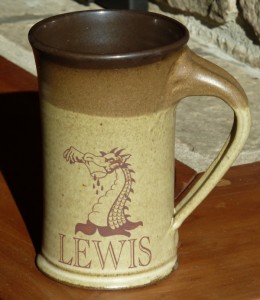 Trivet / Hot Plate showing dark clay with green glaze, approximately 8.5″ across, $24.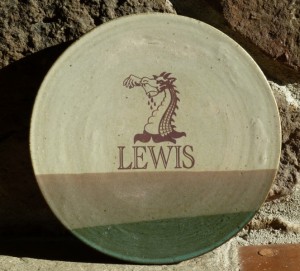 Candle jar shown with dark clay and green glaze, approximately 6.5″ tall (not including candle), comes with four candles, $37.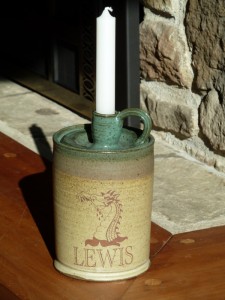 Utensil Bucket / Wine Caddy shown with light clay and green glaze, approximately 7.5″ tall, 6″ wide at top. 4″ wide at base, $44.