The minutes are below the pictures.
Reunion 2010 Group Photo (double click on it to see it larger)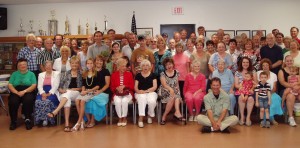 Reunion 2010 Group Photo – Silly Pose (double click on it to see if larger)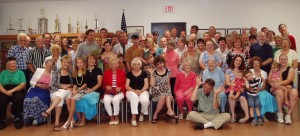 MINUTES AUGUST 22, 2010
The annual picture is getting to be quite a challenge but those taking the pictures
are doing a great job.
President Butch Pash then asked the blessing and we all eagerly went to the over
burdened tables of food. Yum! Yum!
Mark Lewis displayed mugs, trivets, and candle holders. Hand crafted pottery
with the authentic LEWIS FAMILY CREST on them are available.
Go to www.lewisathome.com to view Lewis Crest/Pottery, Photos, History,
next reunion date and Minutes of 8/22/2010.
Old photos projected on the wall while we were eating added to the festiveness
of the occasion providing wonderful memories and "Oooh! I remember that".
President Pash began the meeting by introducing himself and then each introduced themselves and/or families. There were seventy eight in attendance.
MINUTES of 8/21/2009 were approved as mailed.
SECRETARY'S REPORT
MARRIAGE
12/21/2008 SHEENA LOWREY (daughter of Janice McCormick)
To TANLON LOWREY
12/09/2009 LYDIA BROOKS (daughter of Carl and Ramona Brooks)
To MIKE NEWMAN
BIRTHS
05/26/2009 MICHAEL OWEN SZOSTEK
Grandson to Tina (Lewis) and M. Patrick Szostek
09/22/2009 CLARA OSTARA SICKLES
Daughter of Cassie and Mark Sickles
Granddaughter of Paula and Kent Sweat
10/07/2009 ALIENA (Allie) STENLUND
Daughter of Amanda (Bethel) and Earl Stenlund
They reside in Roxboro, NC
Granddaughter of Gene and Belinda Bethel
Great granddaughter of Bill and Susie (McSparin) Bethel
DEATHS
09/21/2009 JOHN HENRY LEWIS survived by his wife, Helen Lewis
and their children.
John was the firstborn child of Kate and John Lewis.
04/03/2010 DIANE LEWIS DENLAPPE
Daughter of Joel Lewis
Sister of Denny Joe Lewis
07/05/2010 JULIA ELIZABETH WEST (Betty)
Betty was the sister-in-law of Myrtle (Lewis) Walker
Sister of Richard Walker
07/12/2010 EILEEN KAYE ROE (wife of Ronnie Roe)
Daughter-in-law of Alice Roe.
08/04/2010 SCOTT GERECKE (Wife Kathy Johnson Gerecke)
Scott is the son-in-law of Norma Jean (King) Johnson.
CORRESPONDENCE FROM
09/22/2009 Helen Lewis
John Henry Lewis, Jr. died @ 9pm.
He was the oldest child of John and Kate Lewis.
10/2009 Department of Veteran's Affairs
Application denied. They will only provide a marker If the grave
is unmarked. There is a headstone on the grave. It was suggested
that the family purchase the stone themselves if they still want a
civil war marker.
11/2009 Margaret Weaver, (daughter of Myrtle Walker) sent a Genealogy
And pictures of Myrtle's family.
2010 Article/Lewis & Clark Towers in St. Louis
Picture of Old Stonefort Seventh Day Baptist Church (1925)
Old Town School Class Picture (3/1946) from Carroll Lewis.
07/21/2010 From LINDA ELLEN LEWIS STUTSON
A genealogy of John Henry Lewis, Jr., certificate of death
And an audio CD.
08/2010 MARION KOCH
1. THE LEWIS' OF SOUTHERN ILLINOIS
Marion's memories of visiting family with brief paragraphs of
the people she met as a child.
2. Letter written by Susan Ferris (Marion's daughter). Susan is
Executive director of the James L. West Center for Alzheimer's in
Texas.
3. Ad to purchase a Martha Washington Cookbook.
CORRESPONDENCE TO
09/2009 RUTH LIPE sent synopsis of the LEWIS FAMILY HISTORY
by Mark to her. Ruth is a descendant of Benjamin Lewis.
09/2009 MAGGIE MITCHELL (lives in Stonefort) Sent above info.
Her mother is Kathleen Hartford Lewis
Charles Burton Lewis is her grandfather.
Thank you to all who took the time to share with your Lewis Family.
Also, thank you to those who sent Christmas messages to me. They are appreciated.
OTHER
Kate Buchanan (10 years old) won the Miss Stonefort award at the Beauty Pageant
at the Stonefort Reunion on Wednesday August 19, 2009.
OLD BUSINESS
THE REQUEST FOR A CIVIL WAR MONUMENT FOR ROBERT LEWIS WAS REVIEWED AND DENIED. BECAUSE THERE IS ALREADY A HEADSTONE AT HIS GRAVE IN JOYNER CEMETERY. THEY SUGGEST THAT IF THE FAMILY WANTS A CIVIL WAR MARKER THAT THE FAMILY PURCHASE IT FROM A LOCAL VENDOR.
MOTION: The Secretary is to gather information regarding cost
of a civil war marker for the 2011 meeting.
ACTION: Passed
NEW BUSINESS
DISCUSSION:
Due to the rising cost of ink, paper & postage minutes should no longer be mailed.
MOTION: The Secretary is to discontinue mailing the Minutes and is to read the
Minutes at the meeting.
ACTION: Passed
NOTE: The Minutes may be read on line at
www.lewisathome.com
To request a copy of the Minutes:
Send a stamped, self-addressed envelope to:
Mary Lewis, Secretary 15 Randolph Road
Stonefort, IL 62987 lewis935@netzero.net
FIRST TIMERS:  JESSICA STURGES;  BRIAN STURGES; SARAH STURGES; RACHAEL STURGES; CLARA OSTARA SICKLES; VIVIAN LEWIS; DOUG CHAPMAN; DEENA SEVERANCE; RUTH MONTAGUE; TERRY WAYBURG; AUSTIN APPEL; KATHY PETTIG; and GARY PETTIG
DATE FOR THE 2011 MEETING
DISCUSSION: Move the meeting date to a time not involving holidays to allow family with school age children to attend with their children giving those who travel many miles time to stay and visit family and enjoy the beauties of Southern Illinois.
MOTION: The date is Saturday July 23, 2011.
Future dates to be determined year by year.
ACTION: Passed
ELECTION OF OFFICERS
PRESIDENT ALAN LEWIS
VICE PRESIDENT GREGORY C. LEWIS
SEC/TREAS. MARY LEWIS
MARK YOUR CALENDARS NOW
SATURDAY, JULY 23, 2011 IS THE DATE FOR THE NEXT
LEWIS FAMILY REUNION
Due to the rising cost of ink, paper, and postage the mailing of the
Minutes will be discontinued. Minutes will be read at the meeting.
View Minutes, photos, ancestry, & Lewis Crest Pottery on line at
www.lewisathome.com
To receive a copy of the 08/22/2010 Minutes
Send a Stamped Self Addressed envelope to :
Mary Lewis 15 Randolph Road Stonefort, IL 62987
Phone 219-730-8033 lewis935@netzero.net