Oliver Lewis
Oliver and his twin brother Oscar (who died in infancy) were born March 11, 1873 in Stonefort, IL
Here is a tintype of Oliver as a boy.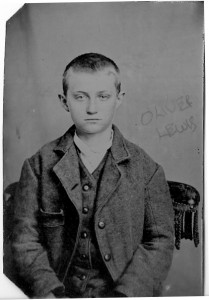 Here is a portrait of Oliver Lewis as a relatively young man.
Oliver's first wife was Anna Jones, born Dec 5, 1872, died Jan 5, 1903.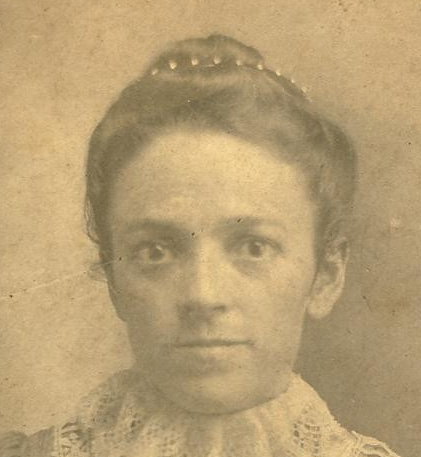 They had two children:
Beaulah (Aunt Bea) born 9/30/1898, married Carl DeVard who predeceased her. Aunt Bea lived over 100 years.
Herbert born 1/22/1900, died a child 2/21/1901
Oliver was the only son who decided early in life that he did not want farming to be his principal occupation, and prepared himself to be a pharmacist. He lived in Stonefort, IL his entire life, his home being only two blocks away from the drugstore he operated six days a week.
Oliver's second wife was Katie Crank, born 10/21/ 1893 in Golconda, IL, married 9/6/1915 in Golconda, IL.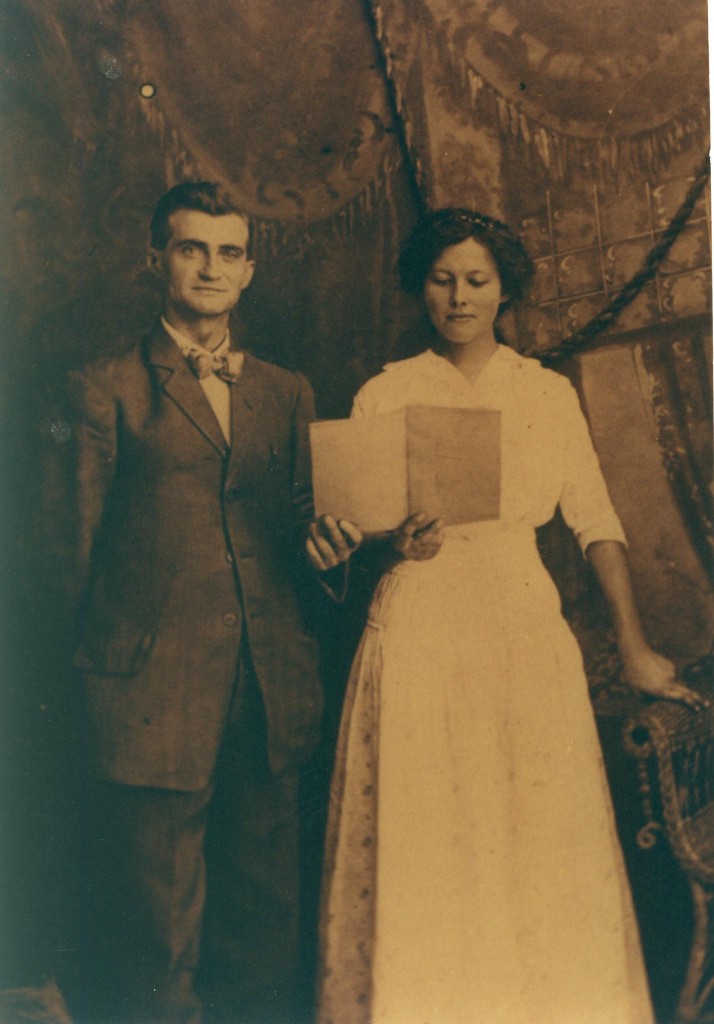 Grandma Kate died 12/14/1956 and was buried in Sulphur Springs cemetery, Pope Co, IL, beside her parents.
Oliver and Kate had 10 children:
Ray Maxwell Lewis born 7/1/1916, now deceased
Charles Edward Lewis, born 10/7/1918, died 11/1/1969
Lester Howard Lewis, born 2/29/1920, died 2/11/1973, buried Sulphur Springs cemetery, Pope Co, IL
living daughter
Myrtle Minervah Lewis Walker, deceased
Harry Vernon Lewis, born 12/28/1925, died 4/9/1961, wife living
living son
living daughter
Dr. Claude W. Lewis, deceased
living son
Oliver was also a printer, and had the honor of owning and operating the first printing machine in Saline County. That same pres is on display at the Saline County Museum in Harrisburg, IL. It is still used by the museum for printing, and several of his original cards advertising weddings, etc, are on display with it.
For many years while operating the store, he still found time to study for the ministry for which he had received a calling. He was licensed to preach, and received a call from the Seventh Day Baptist Church of Stonefort where he served for many years before retiring. Two of his sons, Charles Edward and Harry, also preached there.
Oliver passed away peacefully in his sleep at home on March 22, 1966 at the age of 93.
Sources of information on Oliver Lewis include:
Marriage Certificate of Oliver Lewis & Kate Crank
Oliver's Illinois Death Certificate
Obituary of Oliver Lewis
Obituary of Katie Crank Lewis