Ellis Raymond Lewis (1882-1950) was the youngest of seven children born to Robert and Minerva (Oshel) Lewis. He was born at Stonefort, Illinois, on the Robert Lewis home place, October 10, 1882 and passed away on June 29, 1950, at Fayetteville, Arkansas.
He was married to Nellie Grace Mulvey, daughter of John Lionel and Samantha (Gram) Mulvey who was born in Stonefort, Illinois on July 11, 1884. She passed away on July 3, 1962, and is laid to rest near Riverside, CA, alongside their son Bill, and his wife, Marian (Green) Lewis.
Ellis and Nellie were married in Stonefort, Illinois on June 25, 1905 by his father, Robert Lewis. The family Bible shows that his brother, John Lewis, and her sister, Olive Mulvey stood with them as witnesses. Over the next ten years, six children were born to them, at their home in Stonefort.
(Alfred) J.R. born 3/6/1906, died 4/8/1908, buried Joyner cemetery
Lillian Bessie born 5/4/1907 died 12/31/1989 in San Diego, CA. According to her, she was named Lillian Elizabeth, but her father wrote Lillian Bessie in the family Bible. Her birth was recorded solely in the family Bible, and not recorded in the Illinois birth records where she was born.
Harold born 10/1/1908, died 7/12/1920, buried Joyner cemetery
Dorothy Olive, born 6/12/1910, died 3/6/1979, buried Bluff cemetery, Springdale, Arkansas. She changed her name to Dorothy Jane.
Nellie Grace, born 5/27/1912, died 11/7/1947, buried Thornberry cemetery, Gentry, Arkansas. She was known in the family as Gaye.
William B, born 4/30/1914, died 2/3/1992 in Riverside, CA. There will soon be a linked page with more information on William B. and his family
Ellis grew up on the farm near Stonefort, and after completing his schooling there, entered Milton College in Wisconsin. In 1902, he enlisted in the United States Army. His service record can be found In " US Army, Register of Enlistments, 1798-1914". He enlisted into service on May 14, 1902 at Jefferson Barracks, MO. He received a "good" service discharge at Fort Leavenworth, with the rank of Pvt. on May 13, 1905.
Immediately following their marriage, Ellis and Nellie made their home on Howell's farm, just across the road from the SDB Church, and opened a grocery store in Stonefort. But they yearned for the country life, and Ellis's father had promised to give them some land for a farm, so they chose a spot which lay approximately a half mile due north of Albert's farm. Much of the land was in timber, which meant clearing must be done for both farming and building a home. Ellis built his own house, barn, and other needed buildings. He purchased large Percheron horses for farming, raised Poland China hogs, and white Leghorn chickens. Throughout his life, Ellis supported his family through farming.
Dollie Martin and Nellie were close friends. Dollie's mother, Eugena Martin, who was called Aunt Deany, married Rev Robert Lewis in 1910, two years after Minerva Oshel died. After Deany and Robert's marriage, when Nellie and Ellis had their fourth baby, Dollie came to help. When the fifth baby was due, Ellis asked her to come again to help Nellie, but Dollie had reservations, because it was no easy task to look after a growing family. Dollie and Ira were planning to marry in September, but Ellis encouraged them to marry sooner and come live with them. So Robert Ira Lewis and Dollie Joanna Martin were married on June 3, 1912, by his father, Robert Lewis, at the home of Nellie and Ellis Lewis. Then Dollie became pregnant, and had morning sickness, and was not much interested in housework. So Ira and Dollie asked their parents, Deany and Robert, if they could stay with them for a while, because the house intended for them would not be available until September.
In adulthood, Ellis contracted, what was most likely, tuberculosis. He was ill for several months, suffering bouts of fever, and was confined to a tent outside the house to protect the children from contracting the infection. During this time, he read many of the classics, including the complete works of William Shakespeare, and The Rubaiyat of Omar Khayam, committing long passages to memory. He was always an avid reader, and in this way very well-educated.
Growing up in the Seventh Day Baptist Church, Ellis became interested in the study of the Bible. Eventually, he felt a call to enter the ministry, and began to prepare himself for it. He was licensed to preach in May of 1922 and became pastor of the Stonefort Seventh Day Baptist Church, having been called by that congregation. He remained in that capacity until he was called to the Gentry, Arkansas SDB Church in 1925.
From Gentry, Ellis took missionary trips into the southern states of Texas and Louisiana, visiting families, preaching the Sabbath, and baptizing many. Pastor Beebe accompanied him on some of this denominational work.
Ellis built a beautiful stone barn on the farm at Gentry, and also a small one room stone house in the orchard there, where he used to go to write his sermons.
In 1934, Ira and Dollie moved from Stonefort, Illinois to Gentry, Arkansas, where Ira was to manage the farm, while Ellis continued his missionary work. The families of Ellis and Ira remained close throughout their lives. Several of the Lewis family, including Ira and Dollie, relocated to California in the years following WWII. In the 1950's, Dollie and Nellie were neighbors in Riverside, California, where they participated in the SDB Church. Their sons, Philip and Bill, raised their families in Riverside, and several grandchildren continue to attend there, at this writing in 2010.
Ellis retired from the ministry in Gentry about 1942, and returned to work on the farm. In 1950, he fell off the roof of the barn and was taken to the hospital at Fayetteville, AR, where he died on June 29, 1950. He is buried in the cemetery at Gentry.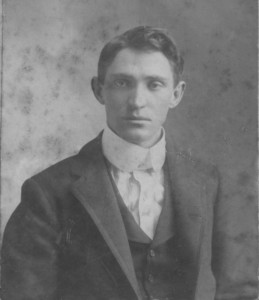 Ellis as a young man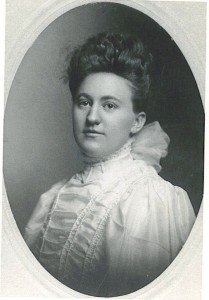 Nellie's wedding portrait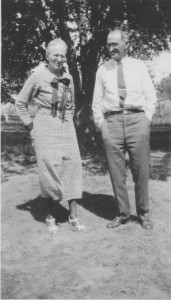 Ellis and Nellie c. 1940
Thanks to Ellis and Nellie's granddaughter Dorothy Jane for helping edit this and providing photographs. Thanks to another granddaughter Anne Burns Linklater for providing additional details.